Between long walks and endless adventures, our dog's paws suffer a lot of wear and tear as they go through life. This can sometimes lead to dry, cracked, or irritated paw pads.
Luckily, paw balm can help protect and moisturize your dog's paws and keep them looking and feeling great.
Below, we'll show you how to use this paw protection tool and share some of our favorite dog paw balms!
Best Paw Balm for Dogs: Quick Picks
#1 Pet Head Oatmeal Paw Butter [Best Paw Butter] — This all-natural, oatmeal-scented paw butter is easy to apply and fortified with vitamins and omega fatty acids.
#2 Paw Nectar Natural Paw Wax [Best Paw Wax] — Made with coconut oil, vitamin E, and shea butter, this 100% organic paw wax is not only effective, but gentle enough for daily use.
#3 Bodhi Dog Organic Paw Balm [Best Paw Balm] — Formulated with beeswax, jojoba oil, and shea butter, this paw balm is made with organic ingredients and without any synthetic dyes or fragrances.
What Is Dog Paw Balm and What Does It Do?
Dog paw balm is essentially a fat that moisturizes and protects your dog's paws. Using a dog paw balm can help protect your dog's paws from road salts, ice, sand, or hot pavement. It can also be helpful for pooches suffering from dry, flaky, or chapped paw pads.
Balm, butters, and waxes are all slightly different, but they all accomplish the same goal — protecting and soothing your pupper's paws.
Below, we discuss their differences below and explain some of the best applications for each of these paw protection aids:
Balms — Balm usually has a somewhat firm consistency and occasionally contains a form of wax. Paw balms are usually infused with healing vitamins and ingredients designed to repair irritated paws over time.
Butters — Butters are similar to balms but usually have a slightly softer consistency. Both balms and butters contain natural base ingredients like shea butter.
Waxes — Paw waxes are usually the most heavy-duty form of topical paw protection and are great for preparing your pup's paws for extreme weather conditions.
Keep in mind that many brands use these terms interchangeably. Therefore, it's best to assess each paw protection aid on an individual basis to ensure that it has the potential to provide relief for your pooch.
Why Should You Use Dog Paw Balm or Paw Wax?
While paw balm or paw wax isn't a necessity for all dogs, it can certainly help Fido feel more comfortable on a regular basis.

Here are a few reasons why you might want to consider incorporating a paw balm or wax into your dog's regular routine:
Hyperkeratosis — Some dogs suffer from hyperkeratosis, a condition in which the outer layer of the skin becomes thickened. This can lead to irritated, uneven paws that are more vulnerable to wear and tear. Dog balm can help soothe your pup's paws and keep him protected from the elements. 
Salt — Sidewalk salt can be damaging to your pup's paws, particularly if you live in a cold climate that experiences snow often. In addition to causing dryness, salt ice melts can cause itchiness and redness on your dog's paws too. Using a paw balm before and after winter walks can help keep the area moisturized and protected. 
Dry Noses — Some paw balms can be used on both Fido's paws and nose. This is a great tool to have around if your pooch suffers from cracked, chapped, or dry skin in either of these areas.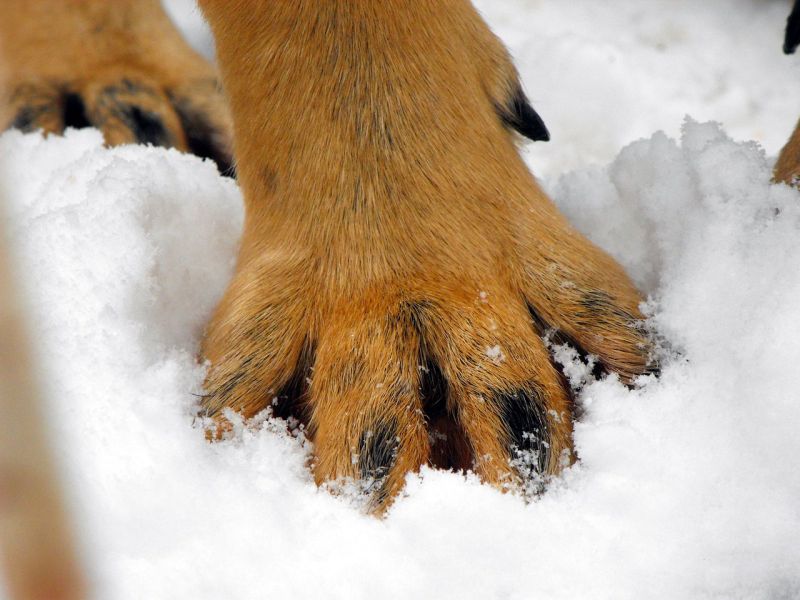 The 5 Best Dog Paw Balm and Paw Waxes
If you're ready to try out a palm balm or paw wax, make sure you select a product that won't hurt your pooch if licked. To stay safe, you shouldn't use any balm, wax, lotion, butter, or moisturizer that's marketed to humans on your mutt.
Check out some of our favorite pooch paw balm and paw wax options below.
1. Pet Head Oatmeal Natural Paw Butter
This is a sponsored placement, in which an advertiser pays a fee to be featured in this article. Learn more
About: This Oatmeal Paw Butter by Pet Head can be used on cracked paws and noses making it super versatile. The formula is gentle enough to be used on puppies 6 months of age and older.
Features:
Formula includes healing ingredients like vitamins E, omega fatty acids, and shea butter
Has a pleasant, oatmeal-like aroma
Helps soothe dry, rough paws
Easy to apply
PROS
This balm seemed to produce super soft pads for most dogs. The paw balm is gentle enough to be used on a daily basis, but some owners saw results even when only applying the balm on a weekly basis.
CONS
The strong smell of this paw butter may encourage some dogs to lick it off. Some owners also mentioned that they'd have liked the product to absorb more quickly.
2. Paw Nectar
This is a sponsored placement, in which an advertiser pays a fee to be featured in this article. Learn more
About: Paw Nectar by Quality Pet is 100% organic and is packed with soothing coconut oil, vitamin E, and shea butter. This balm is made to soothe Spot's dry paws and heal the area over time.
Features:
Two-ounce tin is convenient for portable paw protection
Contains a small amount of rosemary seed and lavender oil which may deter your dog from licking the balm
Formula contains aloe and Vitamin E which can help your dog's paw heal cracked or dry skin
Gentle enough for daily use
PROS
Dog owners were impressed with the efficacy of this dog paw balm, especially for dogs suffering from cracked paws. The balm also helps soften the paws to keep your mutt's mitts moisturized and feeling great.
CONS
Some users had difficulty using this product due to its thicker consistency. However, most pet owners could mitigate this issue by applying the balm using their fingers rather than applying it directly from the tin itself.
3. Bohdi Dog Paw Balm
This is a sponsored placement, in which an advertiser pays a fee to be featured in this article. Learn more
About: This dog paw balm by Bohdi Dog is made with soothing shea butter, jojoba oil, and beeswax. The paw balm is available in multiple sizes making it well suited for tiny terriers and massive mastiffs alike.
Features:
Organic, made in the USA formula
Comes in 2, 4, and 8-ounce sizes
Helps to soften and condition cracked or dry paws
Made without synthetic dyes or fragrances
PROS
Owners were impressed by this palm balm's ability to soothe dry or itchy paws. The soft yet thick balm spreads easily and is gentle enough for everyday use.
CONS
Some owners found the thick formula somewhat difficult to use in the colder months. Also, while there isn't any added fragrance, some owners weren't fond of the natural smell of this balm.
4. Musher's Secret Dog Paw Wax
This is a sponsored placement, in which an advertiser pays a fee to be featured in this article. Learn more
Musher's Secret Dog Paw Wax
Fast-drying paw protection
This protective, non-staining dog wax formula is made with natural waxes to protect your pup's paws no matter the weather.
About: This paw wax by Musher's Secret was originally formulated to protect the paws of working sled dogs, but it also works well for ordinary doggos too. This wax will protect your pup's paws against hot or cold climate conditions.
Features:
Thick, protective formula made with beeswax
Non-staining, clear composition means it works great indoors
Can be applied once every three days
Protective balm dries quickly to deter your pooch from ingesting it
PROS
This large 7-ounce canister of paw wax lasted owners a long time, especially since it only needs to be applied every couple of days. The paw wax seemed to act as a great weather protectant and also helped dry paws heal over time.
CONS
For some pups, walking around immediately after using this wax was difficult due to the loss of traction. If you plan on using this paw wax, it may be best to let the product soak in for a couple of minutes before heading out on a walk with your four-footer.
5. Paw Butter
This is a sponsored placement, in which an advertiser pays a fee to be featured in this article. Learn more
About: Paw Butter by Handy Hound comes in an easy application container making it great for finicky four-footers. The paw balm is made in the USA with organic ingredients.
Features:
Features soothing coconut oil, hemp seed oil, and vitamin E
Mess-free, portable applicator
Can be applied two to three times a day if needed
Clear, non-staining design
PROS
Pooch owners appreciated this paw balm's easy-to-use applicator, as well as its lack of strong odors. The paw balm effectively soothes dry paws and works as a protectant when heading out for walks.
CONS
Though there were few negative reviews, some pooch parents had trouble preventing their dogs from licking off the formula. It might be a good idea to give your dog a stuffed Kong or puzzle toy after applying this balm to keep them occupied.
Homemade DIY Dog Paw Balm
If you aren't ready to try out a commercial dog paw balm, here is an excellent DIY dog paw balm recipe from the AKC. This recipe features natural oils and wax that you can purchase online or at a specialty grocery store.
Ingredients:
Olive, sunflower, or sweet almond oil
Essentially, the ingredients are melted together in a large pot. Once thoroughly blended, the balm mixture is poured evenly into tins. When the balm has set and cooled completed, it's ready for use on your pup's nose or paws.
Other Ways to Protect Your Pup's Paws
In addition to using paw balm, there are other ways that you can protect your pooch's paws on a regular basis. These paw protection strategies can be used in conjunction with one another or on their own depending on your pup's individual needs.
Walk Before and After Care — To keep your pooch's paws pristine, try to wash or wipe down paws before and after walks. After drying the paws, you can use a pooch-safe lotion for extra moisture. Make sure you select a formula that's made for dogs to keep Spot safe.
Booties — Dog booties can be great for protecting your pup's paws from rough terrain and harsh weather conditions. Booties have the added benefit of keeping your home clean since your pooch won't track in dirt or mud.
Note Your Surroundings — To the best of your abilities, try to avoid salt, ice, and rough surfaces while you're out on a stroll. In addition, you can always test the pavement with your hand to see if it's too hot or cold for your pooch to go out at a certain time of day. If you live in an area with particularly hot or cold weather conditions, craft your dog's walking routine so that he remains comfortable while still getting adequate exercise.
Dog Paw Balm FAQs
Here are some common questions and answers surrounding dog paw balm. When in doubt, you should always consult your veterinarian.

He or she should have a good idea of your dog's individual needs and will help you determine if paw balm is a good choice for your furry family member.
Will paw balm stain my carpets and floors?
The paw balms featured above are clear formulas, so they shouldn't stain carpets or floors.
However, there is always an off chance that this might happen, so it might be worth testing the balm out on a small, inconspicuous section of your carpet before applying it to your dog's paws.
In addition, try to keep your pooch off your floors until the balm or wax has dried or been absorbed by your pooch's pads.  
Will it hurt my dog to lick balm off his paws?
Paw balms formulated specifically for pets shouldn't hurt your hound even if he licks a bit off his paws.
That being said, the balm isn't necessarily good for Fido, either. Try to redirect this behavior by enticing your pooch with a tasty treat or beloved toy after applying the balm. 
How long does paw balm take to work?
Results will vary depending on the brand and make of the paw balm.
In addition, some balms need to be applied daily, while others just a couple of times a week. Be sure to pay attention to the manufacturer's instructions to make sure you apply the balm at a proper schedule.  
Can I use paw balm anywhere on my dog's body?
You shouldn't use paw balm anywhere on your dog's body unless it is specifically directed by the manufacturer. However, some dog palms balms can be used on the nose or hot spots in addition to your dog's palms. 
What is the best dog paw balm? 
Is paw balm safe for dogs?
Paw balm is generally safe for dogs though there is always a possibility that your pooch could have an adverse reaction to any topical product.
If your pooch has particularly sensitive skin, it may be a good idea to discuss paw balm with your veterinarian before proceeding with regular application. In addition, during your first application, try to apply a very small amount of product and wait to see whether or not it irritates your dog's paw. 
What can I use to moisturize my dog's paws?
You can use a paw balm, dog-safe lotion, a little bit of raw olive oil, or some coconut oil under the direction of your veterinarian. 
Is it OK to put Vaseline (petroleum jelly) on my dog's paws? 
If you're in a pinch, you can use a little bit of Vaseline or pure petroleum jelly on your dog's paws as a protectant before a walk.
Once you return, rinse off the jelly thoroughly with water and dry the area. While Vaseline can be a great quick fix, it's best to use a pet-safe formula in case your pooch ingests some of the product. 
Does paw balm help cracked, dry pads?
For many dogs, yes! However, keep in mind that there are a variety of factors that could lead to cracked, dry pads.
If you're not seeing the desired results, it is  a good idea to set up an appointment with your veterinarian for a formal assessment. 
When should you use dog paw balm?
Different paw balms have various uses so it's important to first select the right balm for Buddy's needs.
Generally, paw balms can be used whenever your pooch's paws need extra moisturization or protection from the elements. 
***
If your pooch suffers from dry, cracked, or chapped paws, dog paw balm can be an excellent tool for soothing and protecting your pooch's paw pads on a regular basis. With the help of a paw balm and a pet parent's watchful eye, your pooch will be able to put his best paw forward!
Has your dog had any success with these paw balms? How do you protect your pooch's paws? We'd love to hear all about it in the comments below!